Orange Bus
marketing & change consultancy: post-acquisition
The Challenge
Acquisition by Capita PLC in 2016, followed by leadership changes in 2019 combined to create a period of significant change for Orange Bus. As national leaders in service and experience design, the 200+ strong consultancy was left needing some critical support around internal communications, brand direction, and strategic communications.
Managing this period of change has included several discrete communications challenges, including:
Redefining the brand, ready to face the future without forgetting the past 

Re-working services and value propositions to appeal to new market opportunities

Establishing a unique thought leadership role within the new consultancy

Managing internal and recruitment communications to enable growth

Uniting the sales and marketing teams to achieve higher sales targets
How we helped
Di became part of the Orange Bus team for 2-days per week over the course of this year-long project, with design and content partners joining when needed. The initial task was to create an actionable marketing plan to meet lead generation targets while longer-term planning was undertaken. This involved collaboration with the sales team, lead consultants, and senior project managers – to create a fully costed 12-month marketing plan that embraced and applied the unique skills and capabilities of the 200+ team. 
This enabled us to accelerate the creation of white papers, publish articles in lead publications for our target sectors, and maximise impact from events. We also scoped and delivered (sell-out) events, structured a new "growth team" to unite the roles of sales and marketing, and developed a new brand proposition and key message set that has been applied across the website, videos, print materials and internal communications. The ultimate project goal was to create systems and support recruitment to enable the creation of a stable in-house marketing function. This was achieved within the 12-month timescale, enabling a phased hand-over of responsibilities.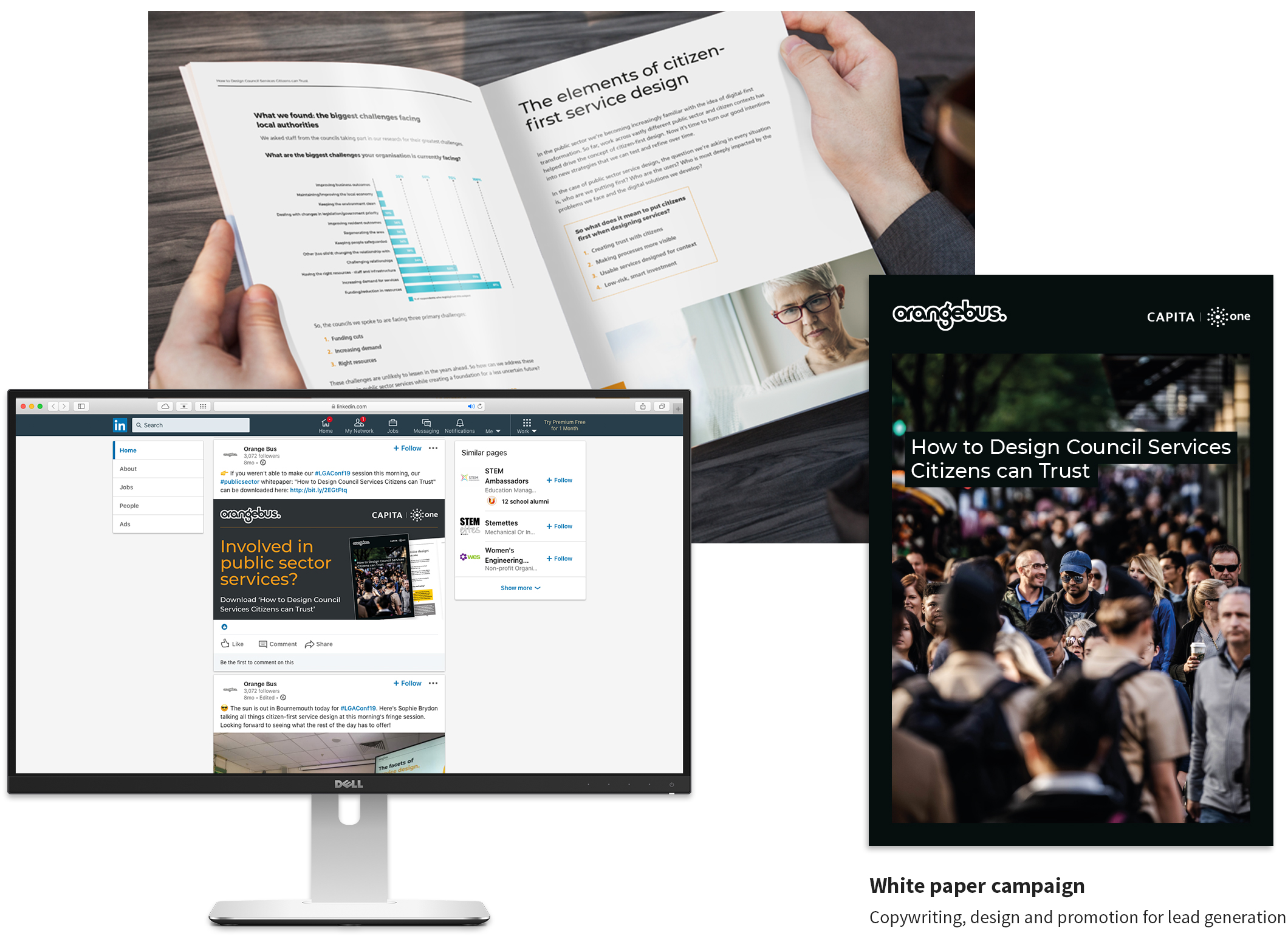 "Di has worked with us here at Orange Bus for the last two years and has really helped us through a time of change, as we grappled with successfully setting up our marketing organisation and the integrating into a wider corporate function. Di's ability to blend strategic thinking and practical application has meant she has been the natural leader to develop and execute our marketing strategy and be the bridge between SLT and the delivery teams across sales, marketing and consultancy. Her clarity of thought and purpose combined with her creativity have helped to ensure we managed to grow the business during a period of significant change"
James Hall, CEO, Orange Bus / Partner for Capita Consulting UK North
View more projects