Donr
marketing & change consultancy: post-investment
The Challenge
Donr is an investor-backed tech company, creating digital giving tools for the UK's charity sector. Within 2 years of launch, signup and engagement rates were steady but with room for improvement, so the leadership team needed help to create a more compelling marketing proposition, and establish a user-driven design process to ensure ongoing product-market fit. 
Specific challenges to be tackled included:
Uniting the management, product and sales teams behind a unique brand mission

Mapping and prioritising market opportunities and priority channels

Establishing a group of representative users for research and product testing

Creating a sustainable user-led design process to refine and improve user experience

Supporting a crowd campaign and investor relationships to raise scale-up funding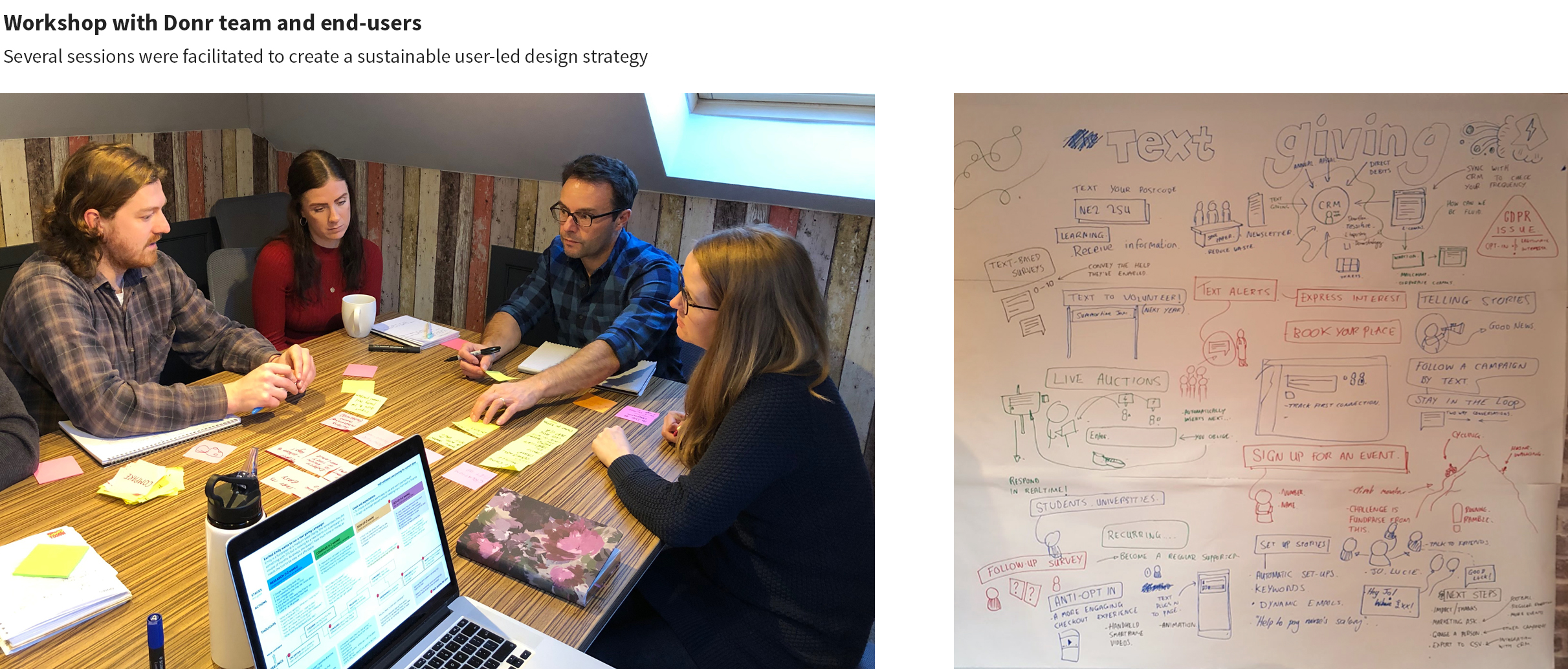 How we helped
We chose a user-centric approach for this project, inviting charities to help us create a new company mission, a focused product promise, and a set of detailed customer journey maps. 
This process has transformed the way in which the product is designed and managed, and has enabled more effective collaboration and communication between the product and sales teams, as there's a shared understanding of goals, a common language, and a shared growth plan.
The project moved through a number of set phases over a 12-week period, leading to the creation of three actionable plans that are now being executed by the team:
Business level:

Mission/vision statement and company objectives 

Brand level:

Brand narrative / key messages based on user feedback

Product level:

User journey maps for key segments and clear product roadmap
This 12-week project ran alongside Donr's second main funding round, involving a crowd campaign, existing investor relationship development, and networking across new investment networks. Stick Theory supported the campaign through the development of clear marketing messages, introductions to personal networks, regional PR and event support. The funding round has now been successfully completed and Stick Theory has been engaged on a follow-up project, to create an ambitious sales and marketing plan for scale-up. 
"Di has been instrumental in shaping our focus to better manage our relationships with our charities. Working with our full team, she's helped us develop our processes to identify opportunities and get to the heart of our clients' issues, to ensure we deliver the right solution to them. As a result of this, we have seen a big increase in the number of charities using our services and their donation revenues increasing significantly."
Chris Newell, co-founder, Donr
View more projects